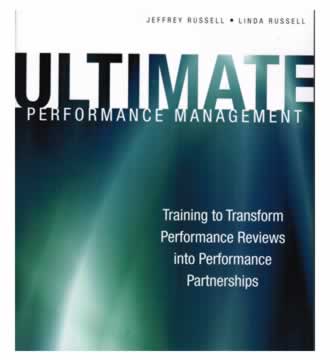 Ultimate Performance Management was our first comprehensive book on performance management. This book offers practical strategies for developing a performance-oriented culture in your company and performance management skills in both your managers and your individual contributors.
In addition to helping you design a comprehensive performance management system for your company, the book includes everything you need for creating workshops to develop performance management competencies in leaders, managers, and individual contributors. This includes teaching points and transitions, active training exercises, handouts, PowerPoint presentations, and supplemental resources.
All handouts and PowerPoint slides are on a CD-ROM included with the book!
Book Outline
Chapter 1: Introduction – How To Use This Book Effectively
Chapter 2: An Introduction to Performance Management
Chapter 3: Assessing Your Performance Management Culture
Chapter 4: Turning People on to Learning
Chapter 5: Evaluating Your Training Program Results
Chapter 6: One-Day Workshop: Developing a Coaching Relationship
Chapter 7: One-Day Workshop: Performance Goal Setting
Chapter 8: Half-Day Workshop: Diagnosing Performance Problems
Chapter 9: One-Day Workshop: Conducting Performance Coaching Conversations and the Annual Review
Chapter 10: Half-Day Workshop: The Employee's Role within the Partnership for Performance
Appendix A: Using the Accompanying CD
Appendix B: Handouts
Appendix C: Training Instruments
Appendix D: Training Tools
Appendix E: Learning Activities
For Further Reading
Order Ultimate Performance Management for $39.95 today! The book retails for $69.95, so this is a good deal!
If you are a government or non-profit purchaser, please e-mail us before placing your order.
What Our Readers Are Saying . . . 
"Once again, Jeffrey and Linda Russell's knowledge of human resource systems and practices is apparent. This thorough book stresses the importance of a well-organized and well-implemented performance review process. Plus, the format of each chapter is easy to understand and put into practice. I found the training workshops especially helpful."
– Sue Durst, HR Director
Wisconsin Energy Conservation Corporation
"Ultimate Performance Management is outstanding! If you want to enable organizations, managers, and employees to truly become 'partners in performance,' then this book is for you. Jeff and Linda Russell have created a powerful resource to help elevate the performance management process from merely good to great!"
– Michael Greenhouse, Change Integration Consultant
AAA Northern California, Nevada and Utah
"I've always found Jeff and Linda Russell's advice and approach to be practical, targeted, and easy to implement. This book takes theory and implementation to an even high level. When I introduced our organization's supervisors to a coaching and performance review concept using a supporting graphic from this book, we discussed coaching and supervision in a new, frank, and thorough way. And now we've developed a strong implementation plan for performance reviews."
– Gary Berger, VP of Finance and Human Resources
Wisconsin Alumni Association