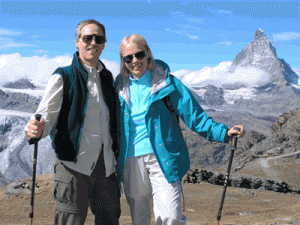 Thanks for visiting our site!
We are Linda and Jeffrey Russell, the principals of Russell Consulting, Inc. Since 1987 we have been helping leaders, managers, supervisors and teams build effective and productive organizations. Working collaboratively, we apply our complementary skills to solving complex organizational challenges by providing multi-level insights into organizational behavior and performance. Linda's knowledge of group and interpersonal dynamics, structure, and group function combined with Jeff's focus on system dynamics and organizational behavior enable them to uncover and tackle deeply buried issues facing organizations.
We look forward to working with you – to help you achieve your business or organizational goals

Linda Russell specializes in interpersonal, group, and team dynamics, guiding client organizations towards deeper understanding of the common interpersonal obstacles to organizational effectiveness. She takes the lead role within RCI for team assessment and interventions, survey development, focus group facilitation, employee and customer interviews, and data analysis. Before founding Russell Consulting with her husband, Linda worked as a supervisor in the Wisconsin Department of Health & Family Services and as a program manager at the Wisconsin Department of Workforce Development. She received her bachelor's degree in Social Work from UW-Madison and has done post-graduate work in rehabilitation counseling.
Jeff Russell specializes in analyzing and understanding the larger systems origin of organizational challenges and helps RCI's clients identify the areas of high leverage to accomplishing lasting change and improvement. Jeff takes the lead role at RCI in providing innovative and dynamic skill training for leaders, managers, supervisors and employees on a wide variety of organizational and leadership topics. He works closely with his wife Linda on all RCI consulting projects, lending his insights and perspective to hers in service to their clients. Prior to founding Russell Consulting with his wife, Jeff served as the human resources coordinator for the Wisconsin Department of Administration and as an assistant administrator in the Department of Health & Family Services. He is an ad hoc faculty member with the University of Wisconsin's Small Business Development Program, Wisconsin Certified Public Manager Program, and Division of Continuing Education and Applied Studies. Jeff has a bachelor's degree in Humanism and Cultural Change and a masters of science degree in Industrial Relations from UW-Madison.
Linda and Jeff are the co-authors of nine books, including Managing Change, Leading Change Training, Strategic Planning Training, Change Basics, Ultimate Performance Management, Strategic Planning 101, and Fearless Performance Reviews — as well as numerous articles on business and management (RCI White Papers).