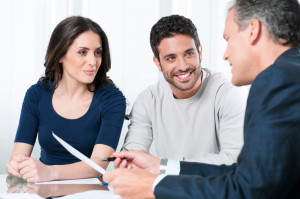 Are your employees fully engaged in their work?
What is employee engagement and why does it matter?
What are the consequences for your organization when people aren't engaged?
Employee engagement is profoundly different from employee job satisfaction. Whereas job satisfaction is a characteristic that describes how satisfied you are with the work you do and the environment within which you work, employee engagement is more about being deeply connected and committed to performing the task and creating value-added outcomes. Employees may be satisfied with their jobs, for example, but not deeply connected or committed to their work. If your employees have job satisfaction without commitment, you may have people who enjoy the work environment but who may not feel a high level of job ownership or responsibility.
This tendency is most evident when you look at one very important organizational outcome: customer satisfaction. Research suggests that satisfied employees don't necessarily translate their job satisfaction into quality service that meets customer expectations. But, when people are fully engaged in their jobs, customers tend to be more satisfied. Research suggests that job engaged employees directly affected the bottom line: an engaged workforce provided better customer service which, in turn, led to more satisfied customers and higher sales!
Employee Engagement Defined
Employee engagement is a characteristic where an individual approaches his or her work with enthusiasm, energy, focus, and commitment in such a way that the person is entirely present in his/her work and is able to bring his or her full potential to the work effort. Engaged employees are deeply connected with their work, the work environment, and the people with whom they work. People are engaged at work when they feel a sense of ownership and commitment to the work itself, their peers, customers, and the company.
Engagement Dimensions
Our research has determined that there are six factors that influence someone's level of job engagement. Organizations that care about the level of job engagement of their employees  should focus some energy in each of these areas: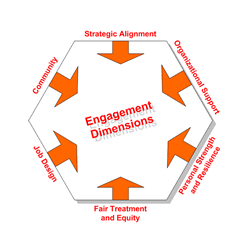 J

ob design/enrichment. Jobs are designed with the performer in mind and both broaden and deepen the performer's tasks such that the work is challenging and fully utilizes the performer's talents.
Fair treatment and equity. There must be perceived equity in the distribution of assignments, rewards, and punishments and employees should feel comfortable taking the initiative, challenging the rules, and so forth.
Community. When people feel part of something larger than themselves, they feel connected and are more likely to participate in and contribute to this community. This, in turn, builds job ownership and reinforces positive performance outcomes.
Strategic alignment. When performers understand the strategic impact of their work, they tend to bring a higher level of commitment to the task. This factor in job engagement infuses the organization's vision and overarching strategy into the work such that the performer sees the higher purpose of his or her work and understands the larger context of his or her individual job performance.
Organizational support. This facet involves the degree to which performers have a sufficient level of support for their work in the form of effective supervision, communication, training, equipment, and other critical resources.
Personal strength and resilience. People tend to be more job engaged if they deal with change and uncertainty well, if they feel responsible for their own success, and if they are resourceful in solving the problems that they face.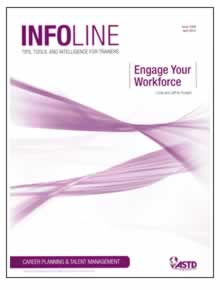 Want to know more about our engagement model? Our ideas of what engagement is and how to develop it are contained in our booklet Engage Your Workforce. Click here to order the book today: Engage Your Workforce.
RCI's Employee Engagement Surveys
Would you like to know how engaged your workforce is? If you are interested in strengthening the level of job engagement in your organization, your first step is to gather hard data on your employees' level of engagement. With this data in hand, you can then begin building a strategy for enhancing job engagement in every department and at every level of your organization. Russell Consulting has developed and validated a comprehensive Employee Engagement Assessment Survey that gives you feedback on your organization's overall level of employee engagement and on each of the six engagement dimensions.
Contact Russell Consulting today to find out how we can help you better understand and enhance the level of employee engagement in your organization!