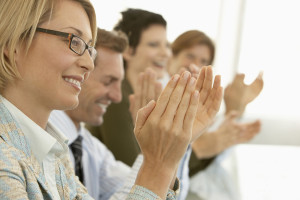 Russell Consulting, Inc. presents workshops internationally on a variety of topics – all under the broader themes that are our passion: leadership, strategy, change, and performance management.
We can keynote your conference to provoke people to think differently about themselves and their roles in their companies.
We offer breakout sessions at conferences that provide opportunities for zeroing in on key issues and offering practical strategies for translating ideas into action.
We also provide half-day, day-long, and multiple-day seminars that dive deeper into topics – building and applying the competencies that leaders, managers, team leaders, and frontline employees need to enable the company's long-term success.
Discover Our Most Popular Keynotes and Seminars
Here is a sampling of some of our most popular keynotes and seminars. Which of these presentations resonates with where your company is and what your leaders, managers, and frontline employees need to hear?
Leadership in an Age of Permanent Whitewater
Fearless Performance Coaching Conversations
Navigating Difficult Conversations
Leading Change in an Age of Uncertainty
Developing Employee Resilience
Discovering Common Ground
Creating and Sustaining World-Class Customer Service
Understanding and Developing Your Emotional Intelligence
The Art of Delegation
Strategic Thinking, Planning, and Organizational Transformation
Understanding and Managing Your Workplace Behaviors
System Thinking and the Art of Seeing the Wholes
Download our "greatest hits" description of keynotes, seminars, and workshops. We'd love to guide you and your organization into a strong and effective future.
Click here to find which keynotes, seminars, and workshops would be the best fit for your company: RCI Keynotes and Presentations.
Contact RCI, call 608.274.4482, or e-mail us to book your keynote, seminar, or workshop today!