Two books, two great resources. Our latest book on change, Change Basics, offers a single-source guide to everything you need to know to introduce change.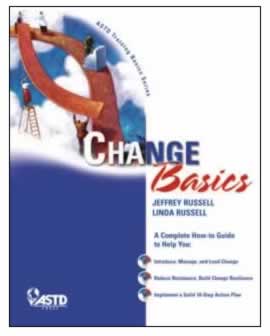 Our book Leading Change Training presents a series of workshop designs to develop and present a variety of workshops on leading change. This book includes all handouts and PowerPoint slides on an included CD-ROM.
Change Basics
Change Basics presents cutting edge thinking about how to lead change in organizations. This book ties together the key themes from our previous books and adds new insights on change readiness and change resilience. Filled with models for introducing and leading change, tools for assessing organizational change readiness, and overflowing with examples, stories, quotes, and additional resources, Change Basics is the one book you need on your bookshelf to help you navigate the wilds of change.Change Basics sells for only $29.95! Order your copy today!
Change Basics is the one book you'll need to effectively lead the next change in your organization.
Book Outline:
Chapter 1: The Challenge of Change
Chapter 2: Understanding the Forces for Change
Chapter 3: Assessing Organizational Readiness for Change
Chapter 4: A Model for Leading Change
Chapter 5: Understanding and Managing the Emotional Response to Change
Chapter 6: Understanding and Dealing with Resistance to Change
Chapter 7: Developing Employee Resilience
Chapter 8: Developing Your Change Plan
Additional Resources for Leading Change
Order Change Basics today for only $29.95!
Leading Change Training
Effectively leading change in organizations requires not only an awareness of how the change process affects people — but also building skills in managers and staff on how to guide people (and themselves) through the challenging journey of change. Along with presenting a model for leading change, our new book gives the reader a roadmap for designing a powerful training program on change for managers and staff. Leading Change Training sells for only $46.95! Order your copy today.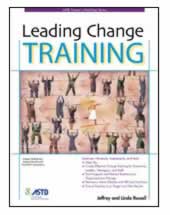 The book is filled with practical workshop design features — teaching points and transitions, active training exercises, handouts, PowerPoint presentations, supplemental resources, etc. All handouts and PowerPoint slides are on a CD-ROM included with the book!
Book Outline:
Chapter 1: Introduction – How To Use This Book Effectively
Chapter 2: How Organizational Change Affects Us
Chapter 3: Assessing the Organization's Environment
Chapter 4: Turning People on to Learning
Chapter 5: Evaluating Learning Outcomes
Chapter 6: Executive Briefing on Change
Chapter 7: Workshop for Managers
Chapter 8: Workshop for Employees
Chapter 9: Learning Activities
Chapter 10: Training Tools
Order Leading Change Training for $46.95 today!
What Our Readers Are Saying . . . 
"What makes Leading Change Training stand out from other manuals with similar content is the section on The Journey Through Change. While many manuals provide some kind of cycle of change to refer to, Leading Change Training goes further and gives detailed actions that should be taken during each phase of the journey. For our organization, change management needs to be more than acknowledging that change is difficult, it must go further in helping guide our Leaders through the process of understanding how to "manage" that change. This book gives relevant and detailed insight into that process. As a change management professional I feel this manual is a step above much of what I have read before."
-€" Heather Edwards, Time-Warner Cable
"RCI's Leading Change model has provided us with important insights into the effects and challenges of change, and has enabled our organization to begin to successfully implement the changes we need to make, in order to become the organization we want to be. They provide a realistic and yet creative approach to leading change that is specific and clear, but also mindful of the big picture. I have relied on their Leading Change material again and again to help successfully guide our organization forward."
-€" Lynn Chisholm, Organizational Development Specialist
City of Lakeland, Florida
"Wow! This book is like having your own personal OD consultant! It offers not only the 'how' of a program on leading change, but also an insightful and helpful look at the why, when, and where. This book can save your company hours of design and development time . . . plus build your own skills as a change agent."
-€" Lin Standke, Instructional Design Manager,
Center for Professional Development
CUNA & Affiliates
"This book is filled not only with principles and concepts, but also with specific suggestions for implementation. I suggest that both HRD professionals and line managers read the book and work together when implementing change."
-€" Donald L. Kirkpatrick, Professor Emeritus
University of Wisconsin
"Here's a tool that practices what it preaches-€"it's adaptable, real, and allows for focus in a variety of situations. Its solutions are doable. It's more than a tool-€"it's a toolbox full of tools."
-€" Michael Hiller, VP Administration
Stanford Credit Union